Anchors Aweigh
NXT AV Plots a Course for Reliability Aboard Shambhala Charter Yacht with Luxul Networking Solutions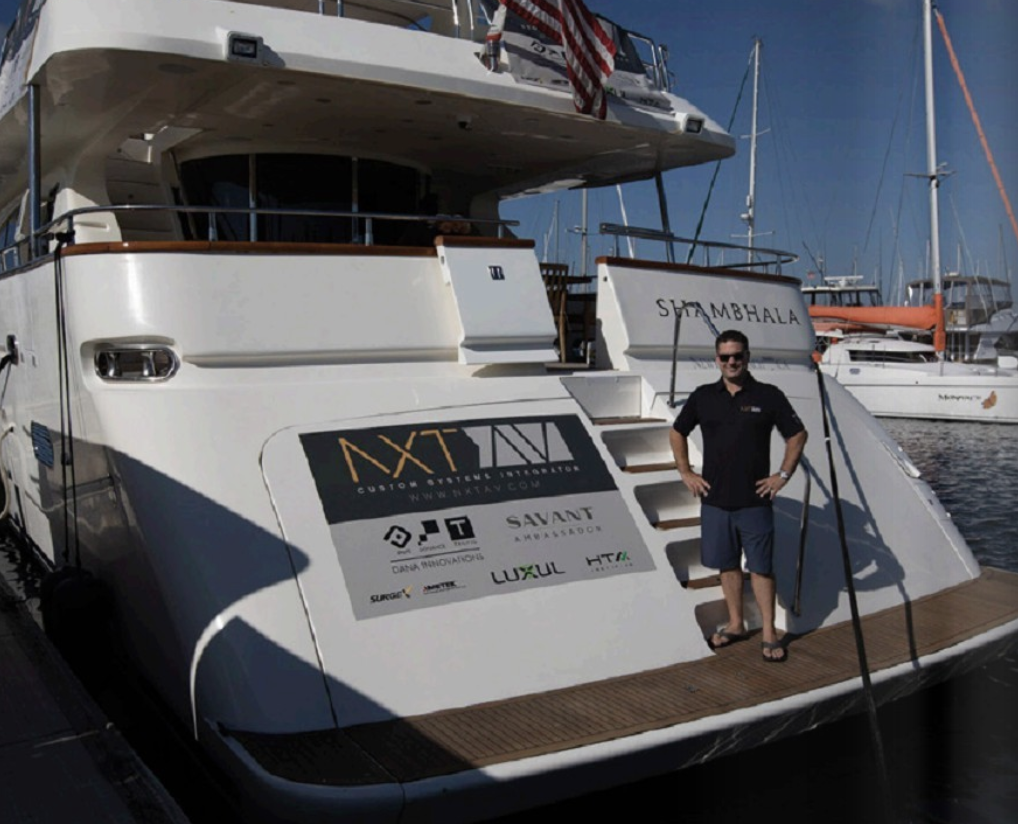 For $15,000 per day — plus expenses — you can charter the Shambhala, a 100-foot Azimut Jumbo yacht. For those who can afford it, the vessel is fully equipped for the ultimate in luxury on the high seas, starting with a reliable network and including the very latest in AV and smart automation technology to keep everyone entertained and comfortable. Eight zones of distributed video? Check. Sixteen zones of distributed audio? Check. Lighting, window treatments, and HVAC systems? Check, check, and check. And, of course, there's Savant Pro control and automation system to provide guests with simple control over it all.

 

Rough Waters

Any installation on a yacht is going to pose unique challenges compared to projects on land. Even running wire is made much more difficult when there's no drywall to tear up and quickly repair. But there are two issues in particular that stand out The first? Service calls. On land, rolling out a truck to reboot a locked-up component is a time- and money-wasting nuisance for everyone involved. That's bad enough. But these problems don't arise on charter boats when they're in dock; they happen on the water, perhaps hundreds of miles out at sea. A service call in this situation is a nightmare scenario. The second issue is bandwidth constraints. Boats rely on cellular and satellite data, which is slow and expensive. Believe it or not, streaming a NetIlix movie from a yacht can cost as much as $650, while leaving little or no bandwidth for other activities onboard, such as listening to Pandora or Spotify.

For the installation on the Shambhala, Orange County, CA-based integrator NXT AV knew that both these challenges could be addressed at the network level. However, the network would also need to deliver outstanding Wi-Fi coverage — despite an abundance of RF interference and the presence of radar, GPS, and satellite systems — as well as needing to provide seamless roaming for mobile devices throughout the boat. Finally, separate virtual local area networks would be needed for the crew and guests. To meet this perfect storm of requirements, NXT AV relied on networking solutions from Luxil.

A Luxul Life Preserver

The Shambhala is equipped with Luxul's Epic 5 Gigabit wired dual-WAN router, which offers integrated Domota remote management and Router Limits content management technologies. The router's remote monitoring and management technology allows NXT AV to easily manage and support the boat's system and all connected devices from the convenience of dry land. The company receives alerts when connected devices or network issues arise — allowing them to take immediate action, such as rebooting a locked-up component, without the need for a service call. And with Domota technology integrated into the Epic S, NXT AV lowered costs and saved rack space by eliminating the need to purchase a separate remote management unit.

"When it comes to system management and maintenance, I have yet to find a product that is as seamless as the Epic 5 with integrated Domotr," said Eli Weinkle, CEO of NXT AV. "You tell it to reboot a port, and it just does it —every time. It's an amazing capability to have on an installation such as this, where all systems are expected to perform flawlessly, and any issues need to be addressed immediately. And with the firm' team helping us with configuration, we were able to utilize Domoty across all the yacht's VLANs."

Router Limits offers cloud-based controls for intemet management. The technology was key in helping NXT AV address bandwidth issues by managing network traffic and assigning devices to the local network for control and feedback.

"One of the problem components m this installation, as far as bandwidth goes, was the Kaleidescape home theater system, which would constantly communicate with the server for deep analytics, metadata checks, and updates," Weinkle added. "That one component eats up several gigabytes of data every day When you're on a cellular plan, that means you will have data throttled almost immediately, or you'll receive a shockingly high bill. If you're downloading movies, you don't need all that communication going on in the background. With Router Limits, we were able to block traffic from the Kaleidescape with just a couple mouse clicks. Problem solved."

Network switches on the Shambhala include the stackable 26-port /24 PoE+ AMS-4424P and 12-port/8 PoE+ AMS -1208P Three Luffil XAP-1510 wireless access points (APs) provide Wi-Pi connectivity with data rates up to 1900 Mbps. With more than one access point on the boat, Luxul's XWC -1000 wireless controller was incorporated to provide easy setup and centralized deployment. The controller also features Ltmol's Roam Assist technology, which ensures seamless and active roaming of mobile devices on the yacht.

Smooth Sailing

"With the price tag for chartering the Shambhala, customers understandably have very high expectations for the technology on the yacht, both in terms of the wow factor it delivers and:. reliability," Weinkle said. "Everyone who's been onboard has been thrilled — whether it's for an industry party at CEDIA in San Diego or a celebrity musician who wants to DJ his own chartered trip. We couldn't have delivered this experience without a solid Luau' network foundation. Their solutions were key in solving almost every challenge we had in this installation. We're blown away by the result, and so is our client."

 

Courtesy of https://online.fliphtml5.com/cmaz/mgxy/

No video selected.